This gull wintered at Lake Waco, McLennan County, in 1991/92, returning for the winter of 1992/3. The following photographs were taken by Martin Reid in October 1992. In the field it was seen to have a heavy dark red bill with obvious gonys (more resembling that of a Laughing Gull), extremely dark red (blackish) legs, and a mantle color a shade lighter than Franklin's Gull but clearly darker than Ring-billed Gull or Forster's Tern. On the under-primaries there was a black tip to the outer feathers, but no black or darker color next to the white "blaze" on the outer feathers. On both the upper and under primaries, the white of the blaze "bled" onto the subterminal part of the adjacent two primaries. In all standing photos it is the bird on the right, with a Franklin's Gull to the left. Please send any comments on its parentage to Martin Reid. Scroll to the bottom for answer: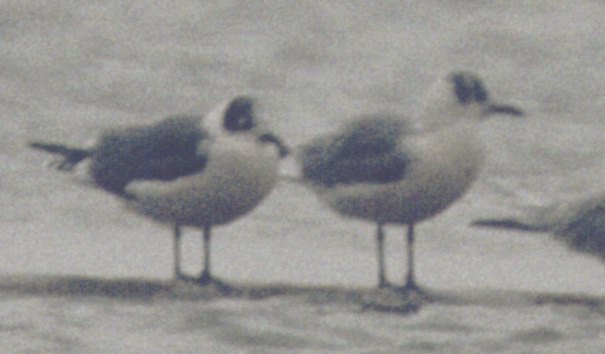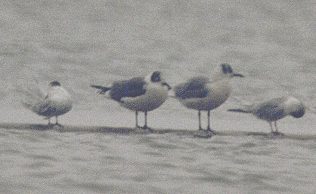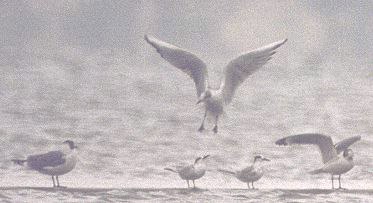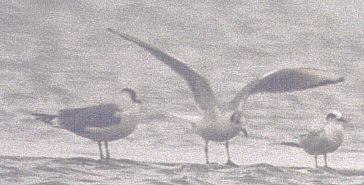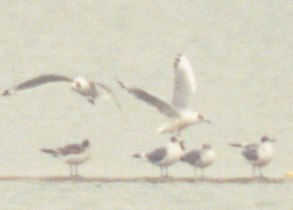 This bird cannot be identified with certainty, but most agree that it is a hybrid gull - with probably Franklin's Gull(FRGU) or Laughing Gull (LAGU) as one parent, and Bonaparte's Gull (BOGU) or Black-headed Gull (BHGU) as the other parent. The initial favorite of FRGUxBOGU - based on range, migration routes, and abundance - is complicated by the very different nesting habits (FRGU on ground; BOGU in trees), but both species often loaf together on small islands, and mating could occur there.

TBRC home page | TOS home page | Search | Contact TBRC | Help
---
Please address comments about our web site to tbrc@tripod.net.
All original contents copyright, 1997. All rights reserved. .
---